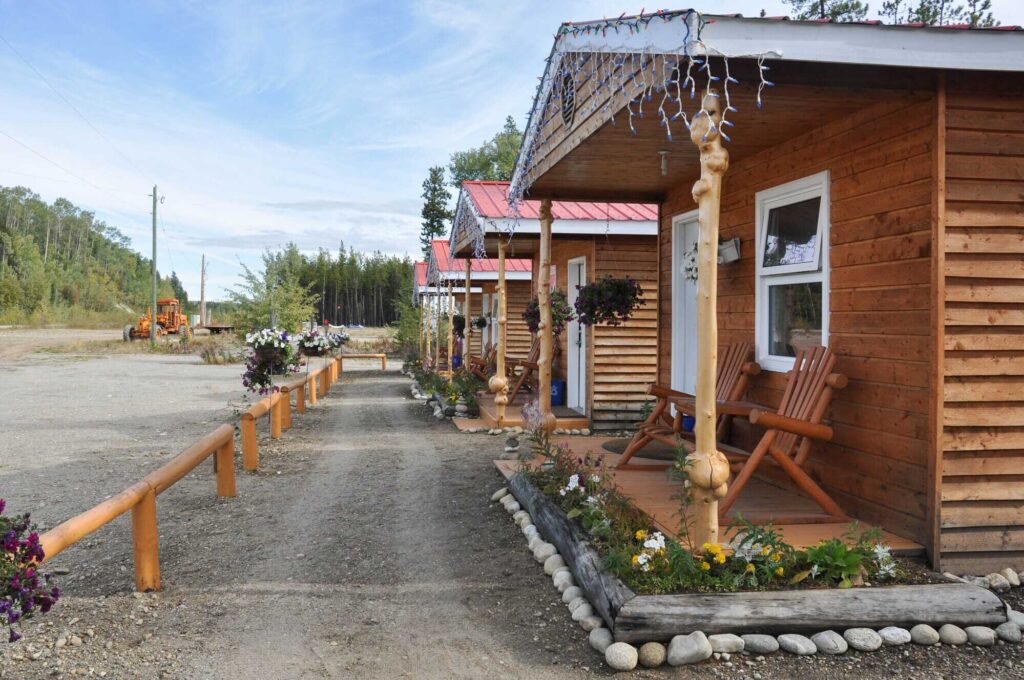 Contact Name: Scott & Linda Goodwin
Main Location: Mile 650, Alaska Hwy, Watson Lake, Yukon
Contact Details: Email: [email protected] Phone: (867) 536-2307
Asking Price: Property # 1 – $799,000 CAD, Property #2 – $850,000 CAD, Property #3 – $595,000
*The below information while deemed to be correct is not guaranteed. All measurements should not be relied upon without independent verification.
OPPORTUNITY KNOCKS..WHY JUST HAVE A HOUSE WHEN YOU CAN HAVE IT ALL??
Modern retreat and lodge for sale many buildings and motel rooms. The bedrooms  and bathrooms are over a large number of buildings.
Zoned commercial well-maintained property with commercial kitchen and 36×36 foot  Norweign scribe log building (w/ hot tub), plus outbuildings.

Owners retiring and are selling for the value of the  land, buildings  and improvements only.  Overall, the property consists of 2 Hectares, or approximately  5 acres, with terrific highway frontage on World Famous Alaska Highway in the Yukon. Walk to lakes at the back of the property, it offers lots of hiking, biking, and snowmobile trails, as well as great fishing at the many surrounding lakes. This is ideal for  people who are tired of the rat race of traffic and city living, who simply want self-employment and freedom. It is just far enough from Watson Lake  to experience the true sense of self sufficiency, but with the closeness of convenience, With the town just 20 minutes away, it is an opportunity to have your own business, grow your own food, raise animals,  own your own water supply, and be as self-sufficient as you want to be.

This property lends itself to many uses, just  to suggest a few possibilities: Healing Center, Retreat Center, Re-training Center, Treatment Center, Detox Center, Rehab Center, Recovery Centre,  Wellness Facility, or an income property, to name just a few. This property offers many diversified business choices for retraining while making an income.
The property boasts a modern 100 seat commercial kitchen with seating in the front, as well as a  a separate dining room with separate bathrooms, there is  a 30×25 foot deck for outside seating, also with its own bathrooms. The restaurant was designed as a house as well,  with its own full shower and bathroom facilities, and is on propane heat. It also has a full basement under the dining room with storage and office.
The property has  eleven (11) 4 star cabins, each with full bathroom and private deck, satellite TV and fibre optic Internet, some cabins are on propane heat, …….some have hot water heating, with electric backup. (Most have 2 heat sources). All the modern conveniences of the city in a quiet rural setting.

(2) Rustic cabins that are almost finished and designed to accommodate a mini kitchen, shower and bathroom in each.
1-house (studio style) with multiple showers and bathrooms. (this can be used for a meeting room or a home, and has a full kitchen. It is in close proximity to the camp style rooms.  If people were in the camp rooms they can easily be supervised from the central studio cabin. This property has driveways to each unit and parking available in front of each unit.
The (18) camp style rooms have electric heat some with propane back up,  and utilize shared bathrooms consisting of  4 additional toilet stalls and sinks, and an additional shower room. A separate laundry room contains washers and dryers.

The property also includes 1 very large building  (we call it " the boat house") which is an enclosed storage structure with a mezzanine and a metal roof. 
Other separate buildings and structures contain:
Carpentry shop
Storage building
Housekeeper building
Storage building at the back of the log building
Covered storage over the 5th wheel trailer at the back of the boat house, as well as the actual  5th wheel trailer itself labelled as #2.
2 level office shaped in a tree house format
There is a  30×50 foot  Quonset building with a mezzanine and cement foundation on the property that has been assigned a zero value and is currently used for storage.
There are (2) wells on the property and 2 approved septic fields which have been well maintained each year.
The property also has a small horse corral.
All measurements are approx. and should be verified by interested parties.
The Norwegian Scribe 1200 sq ft building was hand built locally in 1987. This could possibly be transformed into a house (as it was before we purchased it) It is currently used as a gift shop.
The restaurant was started in 1995 and finished in 2017.
4 Cabins were built in 1997 and the rest were built 2002 up until 2021
Compared to other properties on the Alaska Highway, this is a modern enterprise, with huge fixed asset value. We stress that we are selling only the assets and improvements and are not selling or representing any perceived business operation. All measurements are approximate and should be verified it they are important.  All furniture and  equipment are extra and can be purchased separately.