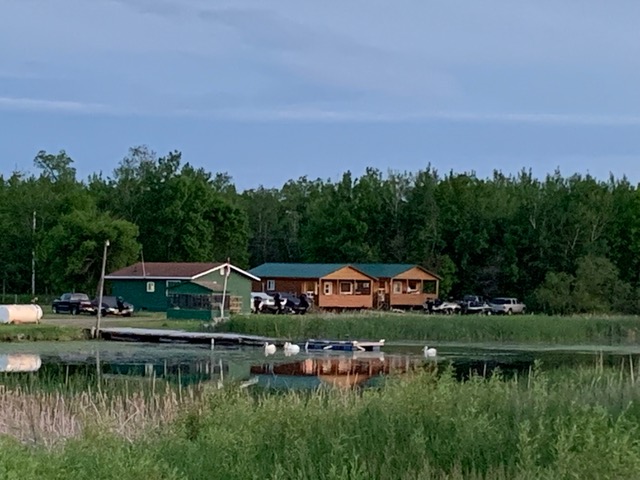 *The below information while deemed to be correct is not guaranteed. All measurements should not be relied upon without independent verification.
In 2021 we opened a take-out only restaurant resulting in sales of almost $70,000 over three months. Cabins can be used year round and generated $45,000 in sales. In addition, a full service deer hunting package is offered in the fall bringing in sales of $17,000. Groups of both fishermen and hunters return on an annual basis with some parties being with us since 2003.
Buildings & Site Improvements
The resort property includes a fishing cleaning/storage facility and small docking area with power. A cement ramp beside the dock allows for boat launching. Eleanor Lake is a small sheltered lake so any winds do not cause damages to docks or boats at the docks. Water treatment is handled by a filter and UV treatment system and a softener installed in 2020. Internet is currently provided through a satellite provider, but fibre connections will be available in the near future.
The main lodge has a fully equipped kitchen (3-burner flat-top grill, 4-burner stove, 2 ovens, a char-broiler, state of the art deep fryer [new in 2021], open 2 basket deep fryer, glass door cooler [new in 2022], three chest freezers and one upright). All cooking appliances are propane fired. The lodge has a central fire place and enough tables and chairs to offer inside dining. The large lodge interior has two public washrooms, office space, private accommodations and washroom in the rear of the building. Laundry facilities are also in the main lodge.
Two of the cabins were constructed in 2004 and are completely winterized. The cabins have an open concept vaulted ceiling with covered decks. The third cabin was extensively renovated in 2004, is also open concept and has an open deck. All cabins are fully furnished including major appliances (refrigerator, stove, microwave), dishes/cookware and BBQ's. A satellite television system services each cabin.
For the enjoyment of guests, as large screened in gazebo at the water's edge brings right to nature. The area has a variety of waterfowl within the adjacent waters including nesting ducks, trumpeter swans, geese, and blue herons to name a few.
Chattels Included in the Sale
Assets pertaining to the kitchen and cabin operations are all included. Any boats and motors are up for negotiation.
Morson's Pelican Landing is a small family owned resort on Eleanor Lake (feeds directly into the southern end of the famous Lake of the Woods) consisting of a main lodge, three cabins and six full hook up RV sites. The resort is located on Highway 621 with the main lodge fronting the highway. The area of the property is 2.23 acres currently zoned Commercial.